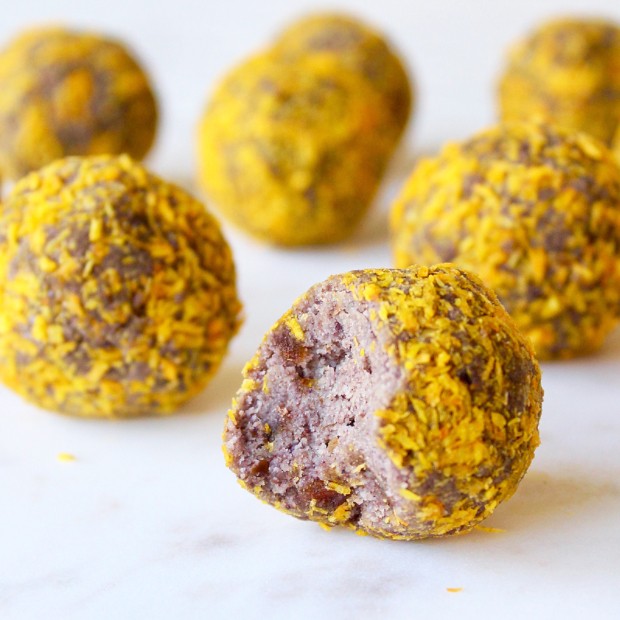 We love this delicious raw snack created with our blueberry powder by @thebuddingviolet on Instagram! Check out her wonderful account. 
Gluten-free, sugar-free & fuss free. And they're packed full of nutrients. 
Our Blueberry Powder is freeze-dried to lock in all the antioxidants, phytonutrients and flavour of fresh blueberries.
Coconut Blueberry Balls

Courtesy of Violet Simpson (@thebuddingviolet on Instagram)
Ingredients
1 cup almond meal or raw almonds
1/2 cup Medjool dates pitted
2 tbsp Matakana SuperFoods Blueberry Powder
1/2 tsp Orange peel
1/2 tsp cardamom
1/2 tsp cinnamon
pinch sea salt
1/2 cup shredded coconut flakes
Method

In food processor pulse almonds into a flour, add all ingredients except dates.
Pulse then add dates gradually until the mix looks crumbly.
Form mixture into balls.
Roll in coconut as seen in the picture. The coconut flakes are dyed with 1/4 cup of carrot juice.

Tips:
These are delicious superfood balls you can take on the go, to work or for pre/after gym work out.  
If you already make almond milk, she suggests that you use the leftover strained almonds from nut milk bag for this recipe. 
Other variations of this recipe, would be to use maca powder or other superfood powders in your pantry that you enjoy.