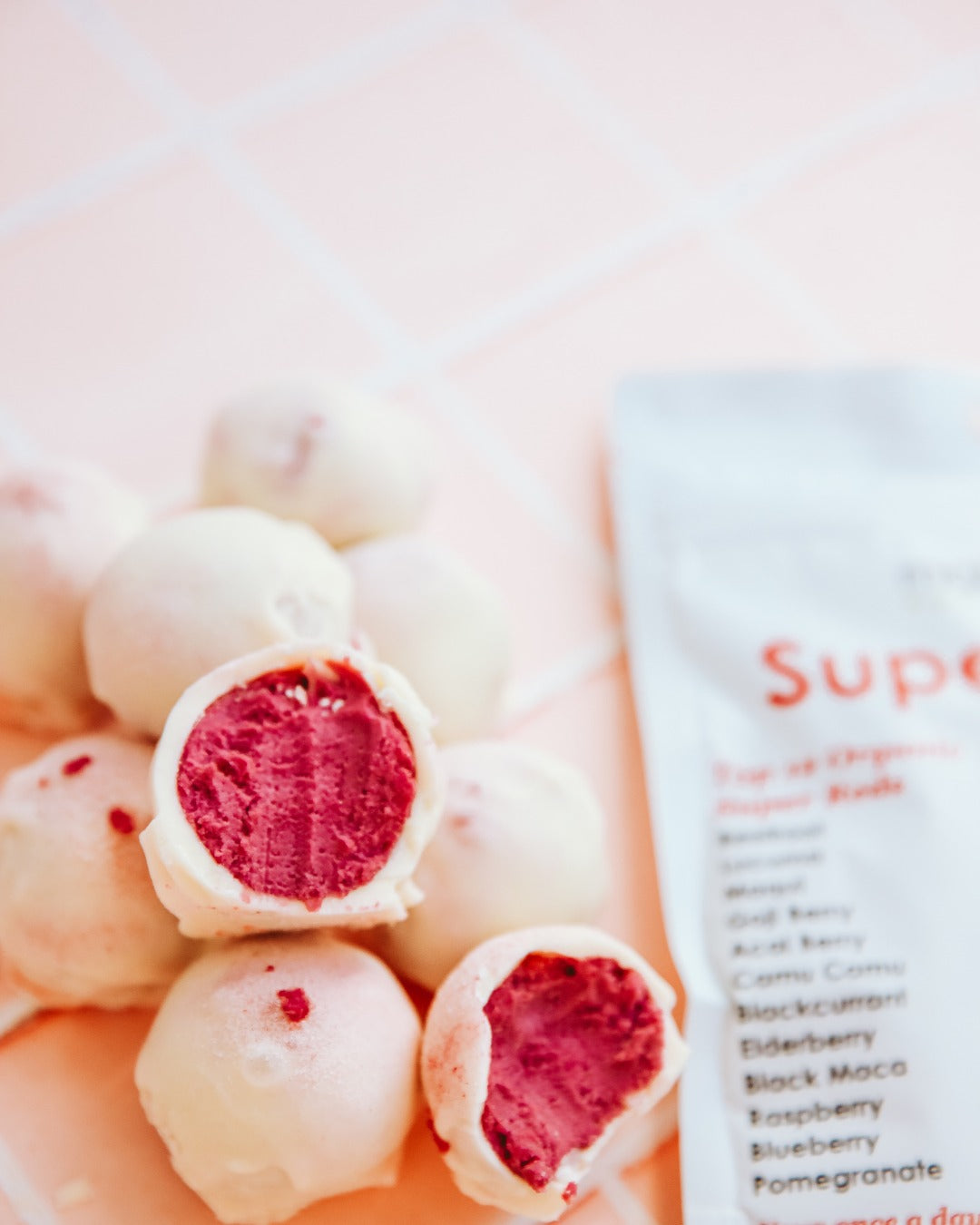 Indulgence meets nourishment in our White Chocolate Berry Truffles, powered by our Organic Super Reds Powder! A fusion of taste and wellness - hands up who wants one?
White Chocolate Berry Truffles
Ingredients
Filling

1.5 cups cashews, soaked until soft then drained
3/4 cup full fat coconut cream
1/3 cup coconut oil, melted
1/2 cup maple syrup
2 tsp Matakana Reds Powder
1/4 tsp salt
Juice of 1/2 lemon
Natural Strawberry Essence or Flavour Oil (to taste)
Optional: freeze dried raspberry or natural food colouring to make it more 'red'

Coating

Melted white chocolate buttons 
Method
In a high powered blender, combine cashews, coconut cream, coconut oil, maple syrup, Matakana Reds Powder, salt, and lemon juice.

Blend until the mixture becomes smooth and creamy.

Add the strawberry essence or flavour oil to the blended mixture and blend again to incorporate.

Transfer the mixture into a container and refrigerate for several hours or until it becomes firm enough to handle and hold shape when rolled into a ball.

Once the filling is chilled and firm, take it out of the fridge. Measure out and shape into small balls. Lay them on a lined tray.

Melt white chocolate buttons either in a microwave in short bursts, stirring in between, or over a double boiler, ensuring the water doesn't touch the bottom of the bowl containing the chocolate.

Dip and coat each ball into the melted white chocolate, ensuring they're fully covered. Hack: Use a toothpick! You want to work quickly here to ensure the balls don't melt too fast.

Place the coated truffles on a lined tray and refrigerate until the white chocolate has set. Once set, store the truffles in a cool place or refrigerate. Enjoy your delightful treats!