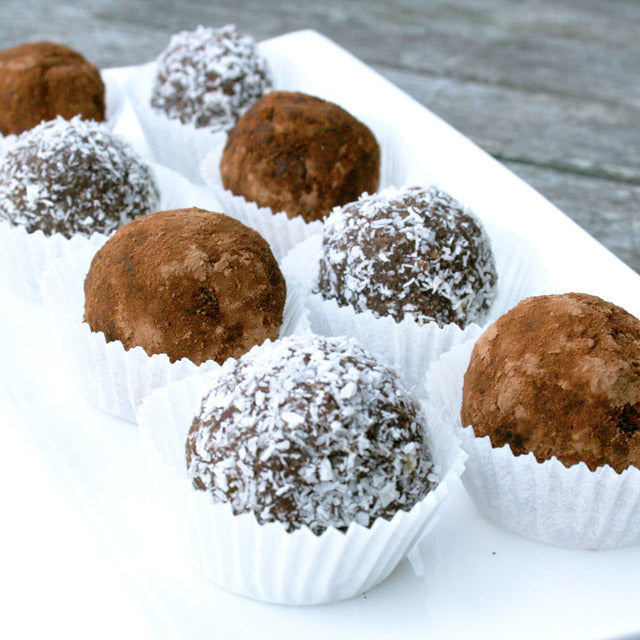 These yummy little morsels are great to have on hand for any visitors that pop in over the holiday period.
They are not only quick and easy to make but also a healthier option compared to regular Christmas treats and they taste delish!
Coconut and Chocolate Rum Balls

Serves 25
Ingredients
1/2 cup cacao powder
1 cup desiccated coconut
1/2 cup ground almonds
2 tablespoons lucuma powder
1 cup coconut butter (softened)
2 tablespoons coconut nectar or coconut sugar
1 tablespoon rum (optional)
½ cup dates (soaked in boiling water for 10 minutes)
½ cup dried apricots (soaked in boiling water for 10 minutes)
¼ teaspoon fine sea salt
½ cup finely chopped walnuts or almonds (optional)
¼ cup extra desiccated coconut or cacao powder (to coat)
Method
Put all the ingredients (excluding the nuts, extra coconut and cacao) into a food processor and mix until well combined.
Add 1 tablespoon of water at a time to the mixture until it starts coming together and is slightly sticky.
Mix in nuts by hand if using.
Form into balls and roll in either the extra coconut or cacao powder.
5. Store in the fridge in an air tight container, but best eaten at room temp. For a more intense flavour leave for 2-3 days before serving.