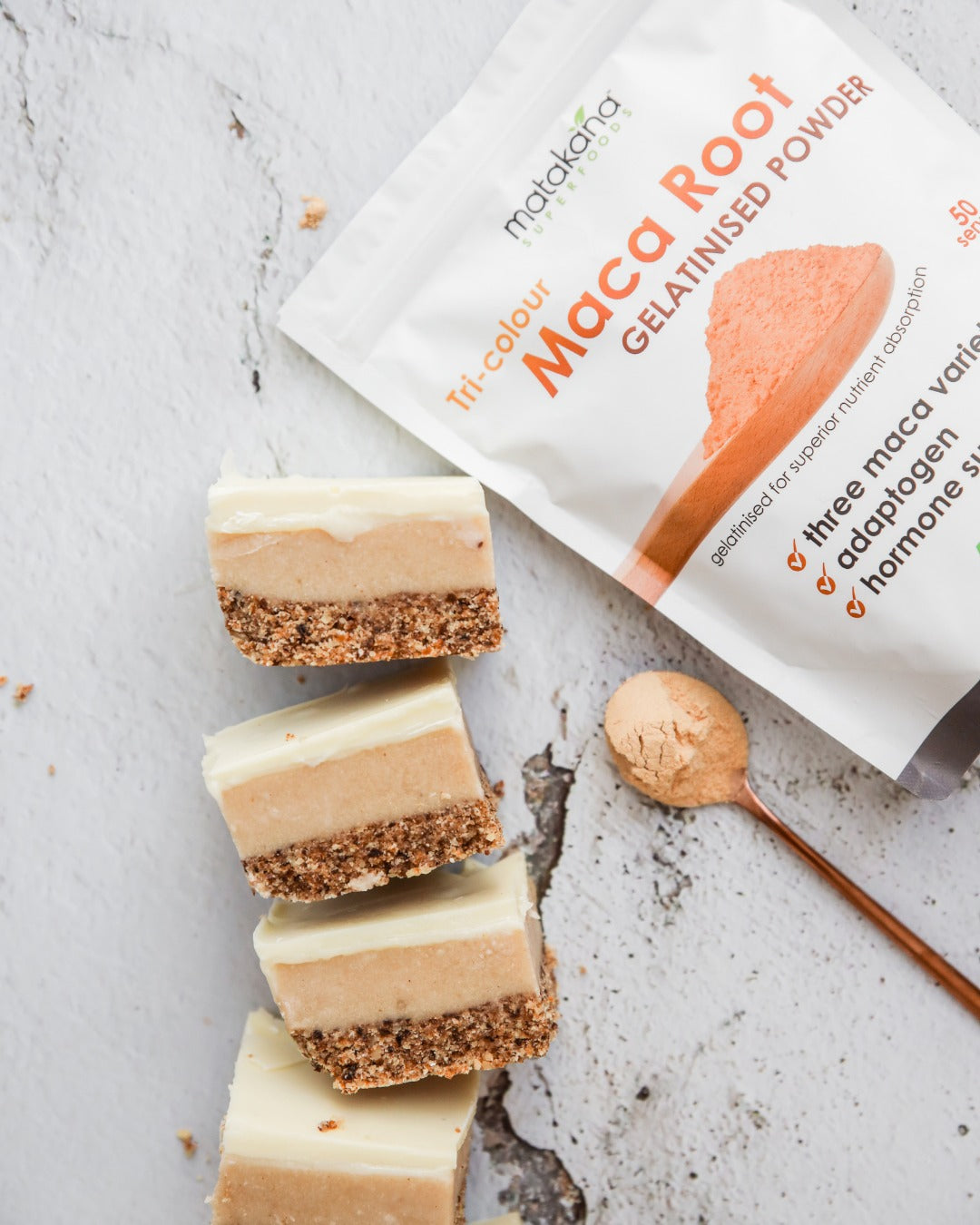 Life can get a little bit hectic and stressful. Of course, exercising and eating right support a healthier lifestyle but one other way is to find zen in dessert 
Because sometimes, a little extra sweetness is the secret ingredient to a truly balanced and joyful life!
Energising Caramel Slice with Maca
Serves 6
Ingredients
Base Layer
1 cup walnuts
1 cup coconut flakes
1/2 tsp salt
2 tsp Maca powder
1-2 tsp coconut oil
Water, as needed
1 cup tahini
3/4 cup maple syrup
2/3 cup melted coconut oil
1 tsp salt
A pinch of vanilla
Melted white chocolate buttons
Method
In a food processor or blender, combine walnuts, coconut flakes, medjool dates, salt, Maca powder, and coconut oil. Blend until you achieve a sticky consistency.
If the mixture is too dry, gradually add water, a tablespoon at a time, and continue blending until the desired consistency is reached.
Transfer the mixture into a lined tin, spreading it evenly to form the base layer. Press down firmly.
In a medium mixing bowl, combine tahini, maple syrup, melted coconut oil, salt, and a pinch of vanilla. Mix until smooth and well combined.
Pour the caramel filling over the base layer in the tin, spreading it out evenly.
Melt white chocolate buttons in a microwave or over a double boiler.
Once melted, pour the white chocolate over the caramel layer, spreading it evenly.
Place the tin in the fridge to set for several hours or overnight.
Once set, slice and serve. Keep slices stored in an air-tight container in the fridge or freezer.