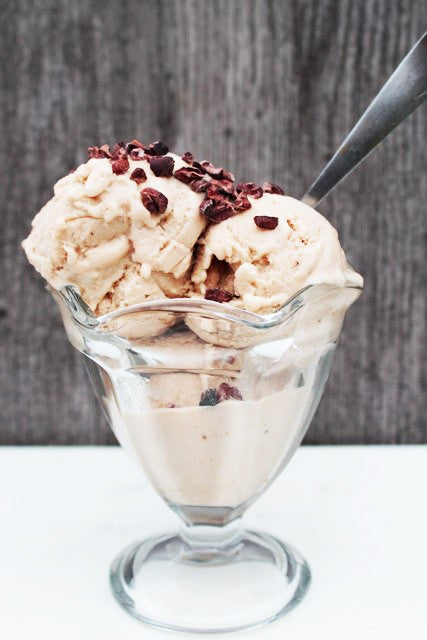 Looking for a yummy dessert that's healthy enough to have for breakfast?. then this recipe is for you! Nice Cream (aka dairy-free Ice Cream) is a great, good-for-you dessert. As long as you have pre-frozen bananas, it can be whipped up in a matter of minutes! Did you know Lucuma is Peru's #1 Ice Cream flavour, beating out both vanilla and chocolate!?
This highly nutritious Peruvian fruit has the most divine maple/apricot flavour that goes so well with creamy coconut and banana. It is also loaded with b vitamins, beta carotene and numerous trace minerals so the perfect way to give this yummy dairy-free dessert a superfood boost.
Lucuma Nice Cream

Serves 2
Ingredients
2 medium sized bananas, cut into pieces and frozen
3 tablespoons organic lucuma powder
1 - 1 1/2 cups full fat coconut milk
1/2 teaspoon vanilla powder (optional)
cacao nibs for topping (optional)
METHOD
In a blender or food processor, place the frozen bananas, lucuma powder, coconut milk and vanilla. Pulse a few times to get things going then blend on high until smooth. If your mixture is too thick you may need to add a bit more coconut milk. Scrape down the sides of the blender as you go to ensure a smooth consistency.
Either serve straight away, or if you would like to be able to scoop it, place it into a container and in the freezer for a few hours. (Note: If it has been in the freezer you will have to let it soften at room temperature for 5-15 mins before serving)
Top with cacao nibs for a yummy chocolate crunch!