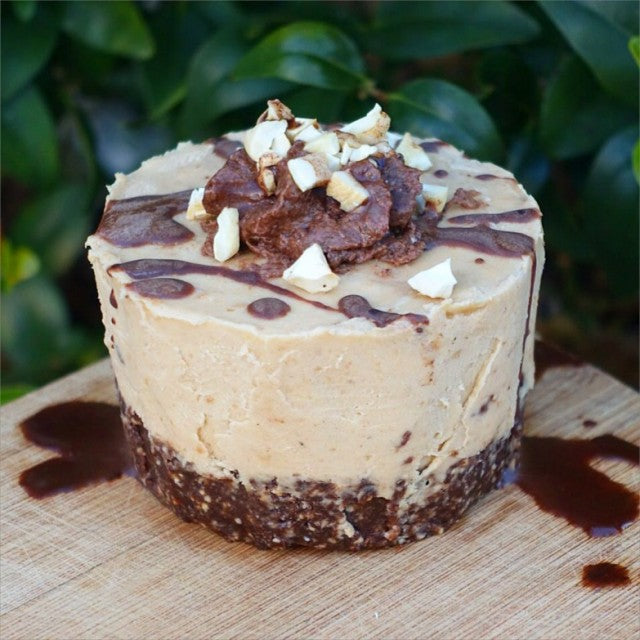 This mouth-watering recipe comes from the super talented Ashlee from The Coconut Goddess.
Ashlee describes this cake as super yummy and nutritious thanks to its nutrient dense superfood ingredients such as cacao powder and lucuma.
It also has a gorgeous silky smooth texture that just melts in your mouth - delish!
Peanut Butter Cup Ice-cream Cake
SERVES 2
Chewy Chocolate Base
⅓ cup of cashews or pecans
¼ cup of dates 
¼ tsp of ground vanilla bean powder
2 tsp of Matakana SuperFoods Cacao Powder
2 tsp of Matakana SuperFoods Coconut Oil
Peanut Butter Ice Cream Layer
1 very ripe banana
⅓ cup of peanut butter
2 tbsp of Matakana SuperFoods Coconut Oil
½ tsp of ground vanilla bean powder
1 tsp of Matakana Superfoods Lucuma Powder
Chocolate Fudge Frosting
2 tsp of Matakana Superfoods Coconut Oil
1 tsp of Matakana Superfoods Cacao Powder
1 tsp of maple syrup or brown rice syrup
Toppings 
Crushed nuts
Cacao nibs
Method
Base
Soak dates in boiling water for 10mins. You could alternatively soak them overnight in cold water if you'd like to make this a raw dessert, depending on how patient you are.
Grease a ramekin or mug with coconut oil and line the base with a circular piece of parchment paper.
In a food processor, place the cashews, ground vanilla bean powder, cacao powder and coconut oil. Pulse until just combined.
Drain the soaked dates and add to the food processor, pulse again until a sticky dough is formed. There should be no large bits of cashew or date left. Press this dough into the bottom of your ramekin, and place in the freezer to set while you make the filling.
Peanut Butter Filling
Rinse out your food processor, then add the ripe banana, peanut butter, coconut oil (do not melt this first), ground vanilla bean powder and lucuma powder. Blend for 2-3 minutes until a silky smooth paste remains.
Pour the peanut butter ice-cream filling into the ramekin on top of the chewy chocolate base, then smooth over with a knife, and return to the freezer. Set for a good hour or two until there is a nice, firm consistency all the way through.
Once set, sit the ramekin in a bowl of hot water for a couple of minutes. This will melt the coconut oil around the edges of the ice-cream cake, and allow you to remove it easily by tapping it upside down on a chopping board.
Chocolate Fudge Frosting
Whip together the coconut oil, cacao powder, and maple/brown rice syrup with a spoon to form a creamy chocolate paste, then pipe onto the top of the cake to decorate it.
Sprinkle with crushed nuts and cacao nibs, and enjoy!