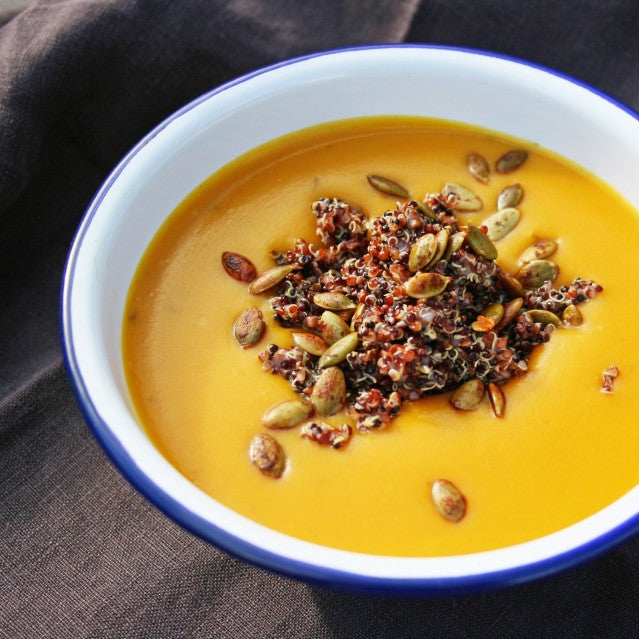 High in nutrients, fibre, antioxidants, vitamin B and low in calories, this cozy soup can be made in a few minutes. Combine the benefits of homemade vegetable-based soup and superfood ingredients to assist your body in its natural detox process.
Pumpkn soup with Quinoa and Toasted Pumpkin Seeds 

Serves 4-6
Ingredients
Soup
1 medium buttercup pumpkin
2 teaspoons cumin powder
1 tablespoon olive oil
1 tablespoon extra virgin coconut oil
1 onion roughly chopped
1 litre vegetable stock
1 teaspoon crushed garlic
1 teaspoon dried thyme
2 medium potatoes quartered
½ cup coconut cream
Salt and pepper to taste
Topping
2 cups cooked quinoa
½ cup pumpkin seeds
1 -2 teaspoons cocoNOTsoy sauce or tamari
Method

Preheat oven to 180 °C.
Cut pumpkin into quarters and scoop out the seeds.  Place onto a roasting tray and drizzle with olive oil and sprinkle with cumin powder before placing in the oven. Roast until soft (approx. 1 hour). Remove from the oven to cool slightly.
While the pumpkin is cooling down melt the coconut oil in a large saucepan over a medium heat and add the onion. Cook until soft.
Next add to the saucepan the stock, garlic, thyme and potato.
Scoop out the soft pumpkin flesh and add to the saucepan. Bring the soup mixture to a simmer and cook for around 20 minutes or until the potato is soft.
Once the potato is soft transfer the soup to a blender or alternatively use a stick blender. Add in the coconut cream and blend until silky smooth.
Place the soup back on the heat, season with salt and pepper and heat through.
To toast the pumpkin seeds pre-heat a small frying pan over medium heat and add in the pumpkin seeds, toast for a few minutes before adding the cocoNOTsoy sauce and toss to coat. Toast for a few more minutes until crunchy (be careful not to burn them).
To serve place the soup into bowls and divide the quinoa evenly between them, top with the toasted pumpkin seeds.