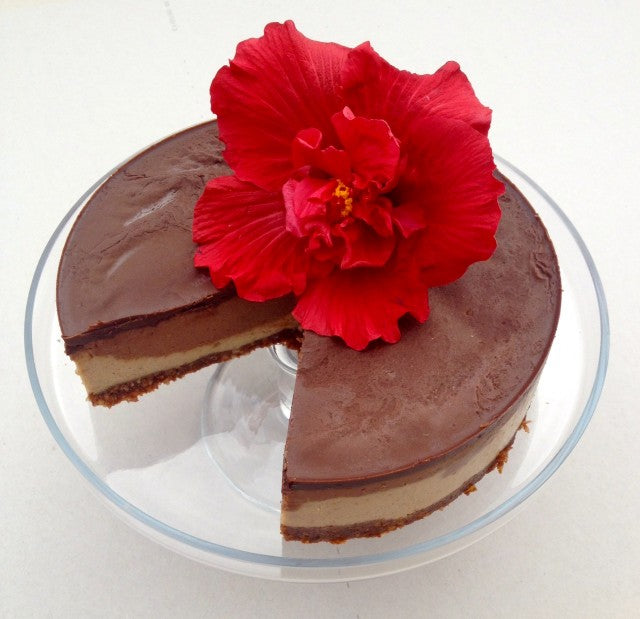 Today we enjoyed the most delicious raw chocolate and caramel cheesecake, made by Megan, who works in our dispatch team. 
This recipe was originally created to celebrate a birthday. Free from dairy, gluten and refined sugar it is much better for you than your traditional birthday cake, meaning you can afford to have a couple of slices!
Chocolate and Caramel Cheesecake
Serves 12
Ingredients
The base

1 ½ cups whole almonds (you can toast these for additional flavour, leave to cool before using)
2 Tablespoons cacao powder
pinch of organic sea salt
8 pitted medjool dates
1/4 cup desiccated coconut
1-2 Tablespoons water
Caramel filling

2 ½ cup cashews soaked for at least 2 hours (overnight is best)
15 pitted medjool dates
3/4 cup melted extra virgin coconut oil
1/3 cup melted cacao butter
3/4 cup coconut milk
1/3 cup pure maple syrup or coconut sugar
1 teaspoon vanilla bean paste
1 Tablespoon lemon juice
pinch of organic sea salt
Chocolate filling

2 Tablespoons cacao powder
Chocolate topping

1/2 cup extra virgin coconut oil
2 Tablespoons cacao powder
2 Tablespoons pure maple syrup or coconut sugar
Method

The base

Process almonds, cacao powder and salt in a food processor until it reaches a breadcrumb-like consistency. Add dates and coconut then combine well. Slowly add water until mixture begins to come together. Press into a lined 20 cm springform cake tin and place in the fridge.
Caramel filling

Combine all ingredients in a food processor until a creamy and smooth consistency is reached. Pour half the mixture over the chilled base.
Chocolate filling

Add cacao powder to the remaining mixture and process until well combined. Pour over the caramel filling.
Chocolate topping

Melt coconut oil over a low heat then add cacao and maple syrup, mix well. Carefully pour over the top of the cheesecake. Place in the fridge overnight to set or if short on time place in the freezer for 2-3 hours. Best served straight from the fridge or slightly thawed if frozen.