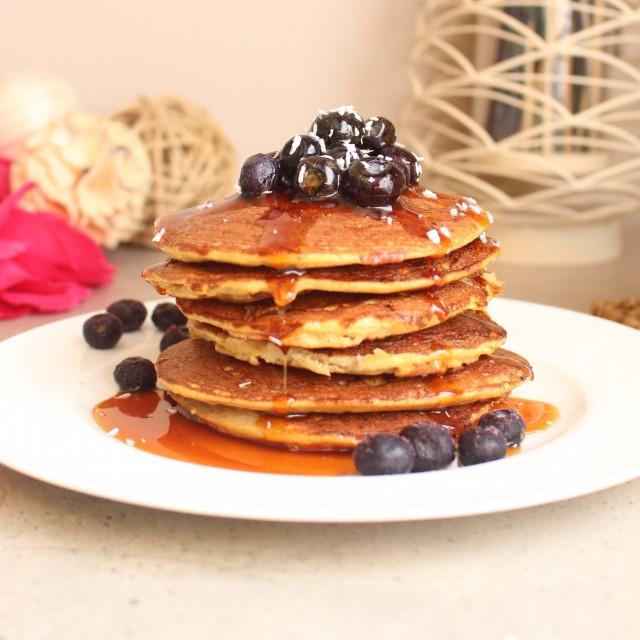 Thanks to Jay & Sarah, My Kitchen Rules Contestants - for this wonderful recipe. 


Sunday morning pancakes are our family ritual – we make a morning of it, and get the kids in the kitchen to help out.  If you want to try something new, give these banana pancakes a try. They are super easy to make and the banana sweetness is a treat.


Paleo Coconut Banana Pancakes

Serves 4
Ingredients
4 bananas, mashed

8 eggs

4 Tablespoons Matakana SuperFoods Coconut Flour 

2 teaspoons baking powder (GF)

1 teaspoon of cinnamon

1 Tablespoon of Matakana SuperFoods Extra Virgin Coconut Oil 

METHOD

Mash the bananas with a fork until no lumps remain.  Beat in the eggs with the fork, then add the coconut flour and baking powder, mix until you have a smooth batter.


Heat a large non stick frying pan over a medium to low heat, add 1 teaspoon of coconut oil or butter to the pan.


Drop 2 tbs spoonfuls of batter onto the hot frying pan. Cook for 2 minutes, flip the pancakes over and cook for a further 1-2 minutes.


Top with fresh fruits and Coconut Nectar ( a delicious natural sweetener similar to maple syrup or honey) or natural maple syrup and enjoy.


TIPS
You'll get best results with this recipe if you use ripe bananas: go for the ones that already have brown spots they have a sweeter flavour and are easier to mash. For this particular recipe you'll also find it easier to make smaller pancakes so they don't break when you flip them.