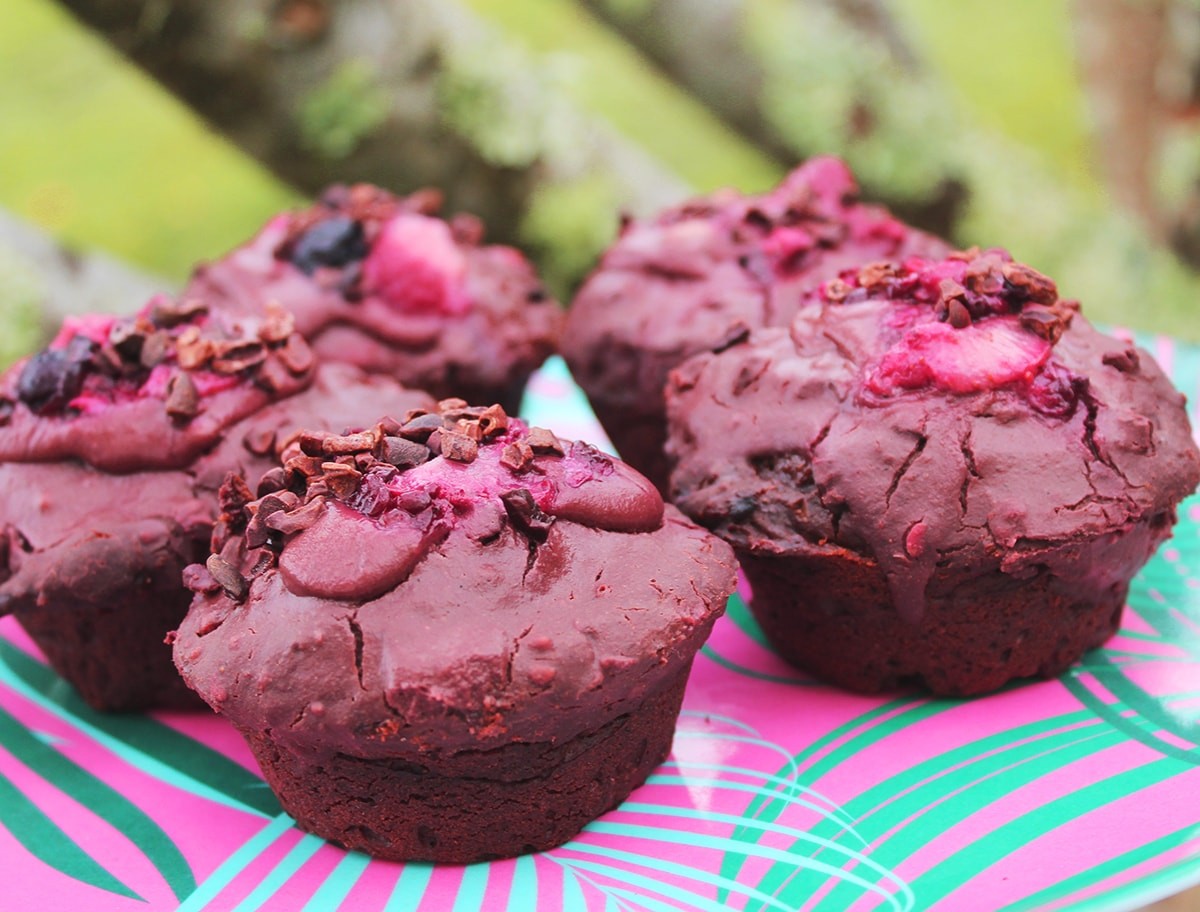 This black forest protein muffin recipe really packs a punch full of superfoods! We've added maca, cacao, quinoa & hemp seed powder for a high protein, nutrient-rich experience with a chocolate taste. Hopefully you'll be feeling ready to take on the world after trying these! 

Gelatinised for enhanced nutrient absorption, our organic Maca Root Powder is a uniquely revitalising, energising and hormone-supporting superfood. Our organic hemp seed protein powder is a completely natural, chemical-free, easy to digest source of plant protein - with absolutely NO artificial flavours, colours or preservatives. Our organic Optimised Instant Quinoa Powder is a nutrient-rich, ready to consume protein source with a delicious mild nutty taste. Quinoa has been used in South America for thousands of years as a highly nutritious food.

Our organic Cacao Powder is rich in magnesium - adequate consumption ensures clarity of mind and helps to reduce feelings of stress and fatigue. Cacao products also have the ability to improve feelings of wellbeing due to their positive effect on a number of key neurotransmitters known for their anti-depressant abilities such as serotonin, dopamine, phenylethylamine and anandamide. These chemicals have been shown to be highest in happy people and are responsible for lifting our mood and are often referred to as our 'bliss' chemicals.

A mouth-watering treat that might just help to reduce your fatigue and promote feelings of well-being? Yes, please. Let's get started.

Black Forest Protein Muffins
Serves 12 

Ingredients
Base
1.5 cups of wholemeal flour
1 tsp baking powder
½ tsp baking soda
¼ cup Hemp Protein Powder
¼ cup Instant Quinoa Powder
½ cup organic Cacao Powder
1 cup of organic Coconut Sugar
3 tbsp organic Maca Root Powder
100g organic cacao butter
¼ cup chocolate chips
½ cup frozen mixed berries
2 eggs (substitute with 1 avocado for a vegan option)
1 cup almond milk (or milk of your choice)
 Lucuma topping
½ cup organic Lucuma Powder
½ cup frozen mixed berries
½ cup water
2 tbsp organic Cacao Powder
1 tsp pure vanilla essence

To sprinkle
Organic Cacao Nibs
Chopped frozen berries

Method
Sift the dry ingredients into a large bowl ensuring all lumps are smoothed out
Melt the butter and sugar in a pan until smooth
Create a hole in the middle of the mixture and add two eggs - mix in the butter-sugar mixture
Stir the mixture with a fork, add almond milk incrementally until mixture is a smooth consistency
Add the chopped dark chocolate
Mix in the frozen berries
Butter a 12 Muffin tin with your cacao butter
Distribute mixture evenly and bake on 180 degress for 15 minutes
Set muffins aside to cool
Blend 1/2 cup of frozen mixed berries with a 1/4 cup water
Heat the lucuma, cacao powder and 1/4 cup water over a stove top
Add frozen berry mixture to lucuma mixture in the pan to create a thick paste
Dip each muffin in the mixture for a tasty topping
Sprinkle with cacao nibs and chopped frozen berries - let the topping set
Enjoy this decadent yet nutritious treat!