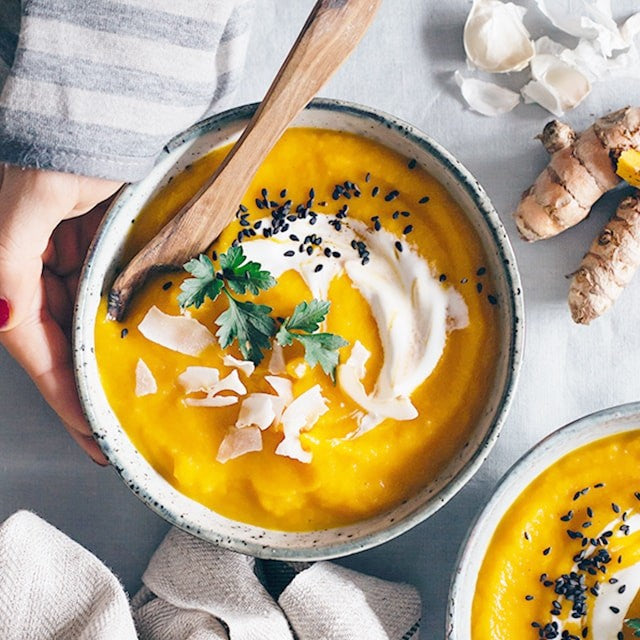 A warming soup loaded with healing nutrients for a comforting chilly evening. Try this delicious "Warming Carrot Soup with Turmeric and Ginger" by Hello Glow. Curcumin is the unique bioactive ingredient found in turmeric which has been shown to be anti-inflammatory and a strong antioxidant. 
Warming Carrot Soup with Turmeric & Ginger
Serves 2
Ingredients
4 carrots, peeled and chopped
1 parsnip, peeled and chopped
1 onion, roughly chopped
4 garlic cloves, crushed
2 teaspoons organic Extra Virgin Coconut Oil
3 cups low sodium vegetable broth, warm
1 teaspoon Matakana Superfoods Organic Turmeric Powder
1-inch ginger knob, peeled and grated
Juice from 1/2 of a lemon
Pinch cayenne pepper
Fresh parsley, coconut cream, black sesame, coconut flakes, to serve
Instructions

Preheat the oven to 180 degrees.
Line a baking sheet with parchment paper. Add the carrots, parsnip, onion and garlic, then season with turmeric and cayenne, drizzle with coconut oil and toss to coat evenly.
Roast for 15 minutes, then remove from the oven and transfer into a blender with the vegetable broth, lemon juice and ginger.
Blend the ingredients until smooth and creamy.
Pour the soup into serving bowls, garnish with fresh parsley, sesame and coconut flakes, drizzle with coconut cream and serve warm.