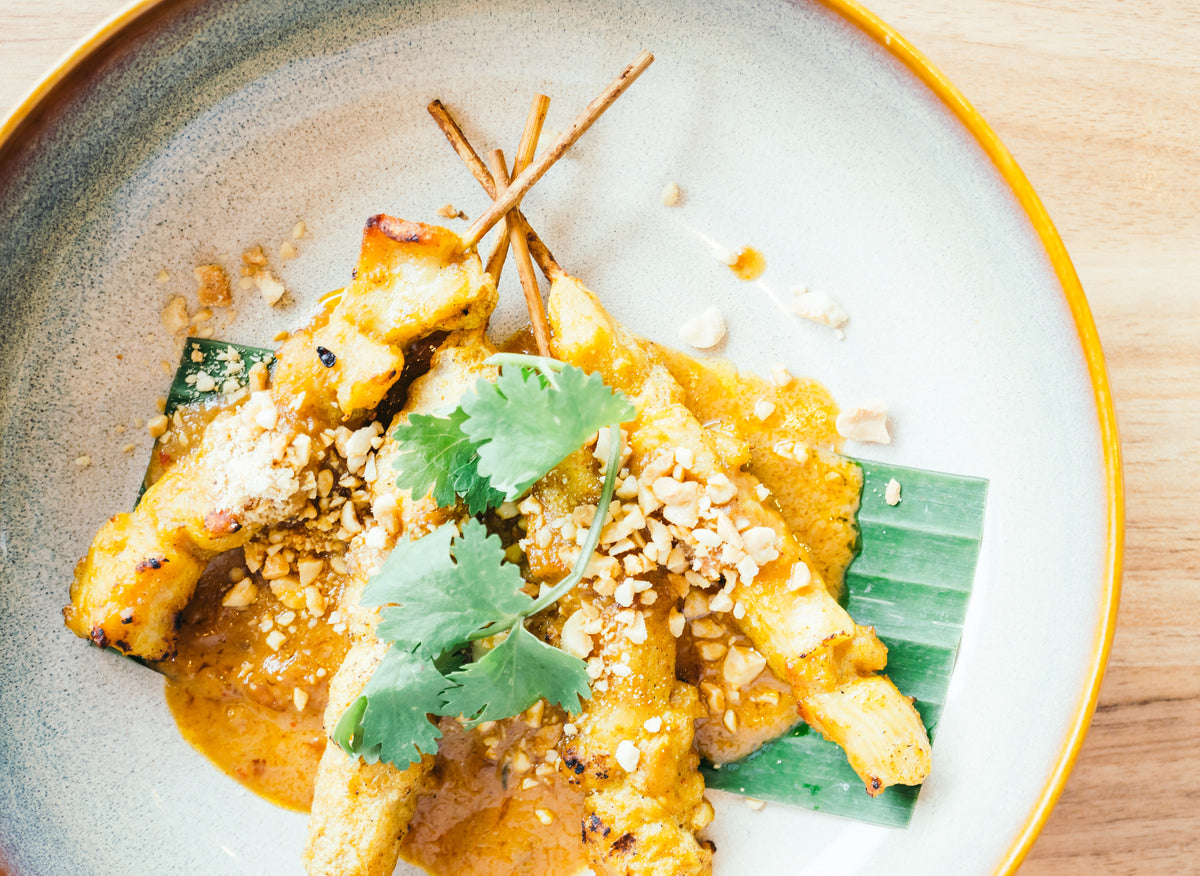 These satay chicken kebabs are a true family favourite. The creamy peanut sauce has a yummy Asian flavour that pairs perfectly with either chicken, pork or beef. By making the satay paste recipe from scratch you ensure that the spices are able to infuse together giving the sauce a richer and more authentic flavour compared to your typical store-bought sauce. Serve the kebabs with a side of fragrant basmati rice for a delicious and comforting dinner option.
Satay Chicken Kebabs

Serves  2-3 
Ingredients
Satay Paste
½ tablespoon extra virgin coconut oil
1 small onion finely chopped
1 garlic clove crushed
1 teaspoon freshly grated ginger
½ teaspoon Organic Turmeric powder
1 teaspoon cumin powder
1 teaspoon fish sauce
1 teaspoon Coconut sugar
2 teaspoon CocoNotSoy Sauce or tamari
1/3 cup peanut butter 
3 tablespoon Coconut butter*
½ teaspoon sesame oil
zest and juice of a small lemon
Skewers
2 large chicken breasts 
½ Satay paste mixture
1-2 teaspoon extra virgin coconut oil
6-8 wooden kebab skewers
Satay Sauce
½ satay paste mixture
½ - ¾ cup water
Method
Satay Paste
Melt coconut oil in a medium saucepan over a medium-low heat and add onion. Cook until soft.
Add in garlic, ginger, turmeric and cumin and cook for a further minute.
Add remaining satay paste ingredients, mix to incorporate and cook for a further 2 minutes. Remove from heat to cool slightly.
Chicken Skewers

Slice chicken breasts into 2cm chunks and place in a bowl.
Add half of the cooled satay paste and toss chicken to coat.
Heat coconut oil in a frying pan over a medium heat.
Thread chicken onto skewers and place in pre-heated frying pan. Cook each skewer for 10 – 15 mins rotating frequently.
Satay Sauce
Heat the remaining satay paste on a medium-low heat.
Add water, mix to combine and heat through. (More water may be needed to get desired sauce consistency)
Spoon sauce over cooked skewers and serve with rice, a wedge of lemon and garnish with fresh coriander.
* Natural separation of the coconut butter is normal. Just heat the jar slightly and mix to combine the oil back in with the rest of the butter.