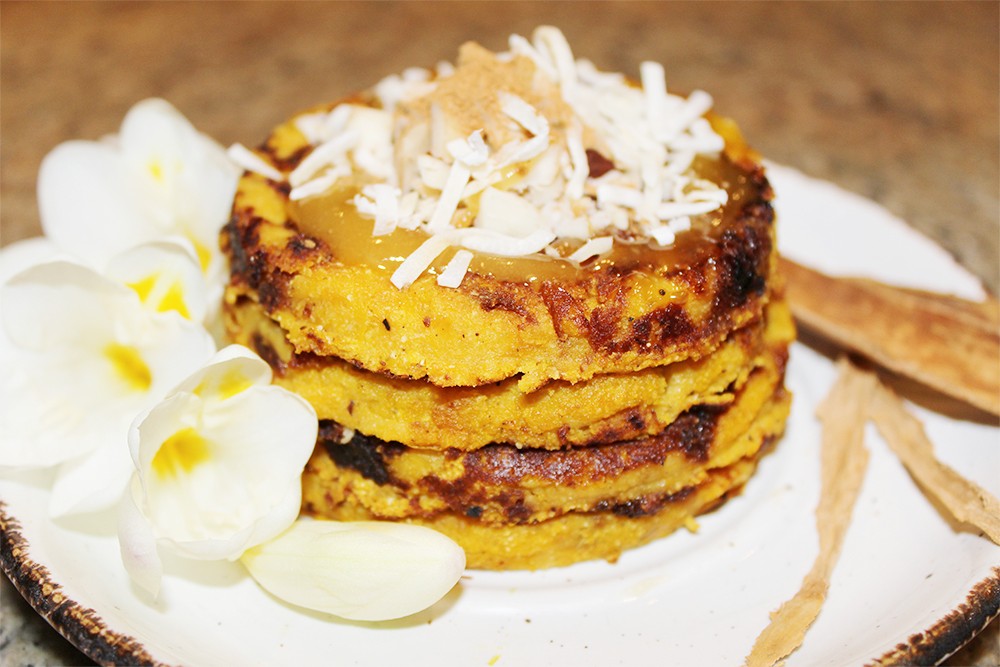 These fritters are delicious for breakfast or dessert and are rather easy to make. Pumpkin is a nutrient-dense food that is packed with vitamin A.
We've incorporated Coconut Flour which is a prebiotic and great for your gut health. Our low GI* Coconut Sugar and Coconut Nectar are used in this recipe instead of cane sugar.
The mixed spice and cinnamon are a wonderful complement to the pumpkin flavour. Bon Appétit! This recipe makes 10 small fritters. 
Spiced Pumpkin Fritters
Serves 10
Ingredients
2 cups cooked mashed pumpkin
1 tsp vanilla extract
1 egg beaten
1/2 cup self-raising flour
1/2 cup organic Coconut Flour
2 tsp baking powder
1/2 tsp salt
1 tbsp mixed spice
1 tbsp organic Coconut Sugar
Coconut Oil for frying
 
TOPPING
Coconut Nectar
Ground cinnamon
Coconut flakes
Chopped brazil nuts

METHOD
Drain your cooked pumpkin well and mash to a smooth consistency. (Note: If the pumpkin has too much moisture the batter will be too runny)
Crack in the egg and add the vanilla extract – mix well
Add the rest of the ingredients to create a soft, firm batter
Heat a teaspoon of coconut oil in a large pan
Place a heaped tablespoon of the mixture onto the pan and turn when underside is golden brown
  When both sides are golden brown remove with spatula and drain on absorbent paper
   Add coconut nectar, nuts, cinnamon and coconut flakes for a tasty topping


Tip: To get a nice round shape, we cut the fritters with a circular cookie cutter.