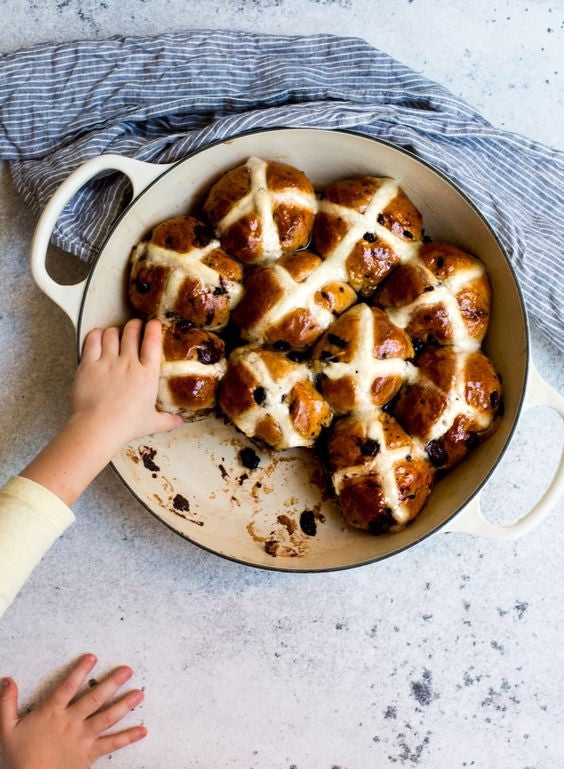 Don't let Easter fly by without indulging in at least some tasty, baked or chocolate treats. Enjoy your Easter break this year with these gorgeous vegan hot cross buns with dark chocolate and sour cherries! They are made with extra virgin coconut oil and vanilla bean powder which are two of our delicious organic products.
Check out www.theflouredkitchen.com for more of Bek's work, check out the recipe below. 
Vegan Hot Cross Buns with Dark Chocolate and Sour Cherries
Ingredients

Serves 12 hot cross buns
For the buns

1 cup / 240 ml almond milk, heated until lukewarm (not hot or you will kill the yeast)
14g / 2 x 7g sachets / 4 tsp. dried instant yeast
55g / 1/4 cup raw caster sugar
1 tsp Matakana SuperFoods Vanilla Bean Powder
zest of 1 medium orange
500g / 4 cups plain flour
1 tsp. fine sea salt
1 tsp. mixed spice
1 tsp. ground cinnamon
about 1/8 tsp. freshly grated nutmeg
55g / 1/4 cup Matakana SuperFoods organic Extra Virgin Coconut Oil, melted
25g / 1/4 cup chickpea flour mixed with 60ml / 1/4 cup almond milk or water
120g / 1 cup roughly chopped dark vegan chocolate, 60 – 70% cacao
80g / 1/2 cup dried sour (tart)cherries, roughly chopped
For the crosses
6 tbsp flour mixed with about 5–6 tbsp water to create a very thick paste (you may need to add more water/flour to achieve the correct consistency).
55g / 1/4 cup raw caster sugar (or vanilla bean sugar for extra vanilla-y flavour)
60ml / 1/4 cup water
1 tsp Matakana SuperFoods Vanilla Bean Powder
Method
Place the warmed milk in a medium bowl and whisk in the yeast. Set aside for 10 minutes to dissolve the yeast and allow it to become activated and frothy.
Place the sugar in a medium bowl, then add in the vanilla bean powder and the orange zest. Rub the powder and zest into the sugar with your fingers until combined and fragrant.
In a large mixing bowl or the bowl of a stand mixer, whisk the flour, salt, spices, and the vanilla-orange sugar together until combined. Make a well in the centre and pour in the melted coconut oil, followed by the yeast mixture and the chickpea flour mix. 
Mix the wet ingredients into the dry with a fork until a rough dough begins to form. Then either increase the speed of your stand mixer to knead the dough, or transfer the dough to a flour dusted work-surface and knead for about 10 minutes – until the dough is soft, smooth and springs back slowly when you gently press a finger onto it. It should be lightly tacky to the touch, but not overly sticky. If it's too sticky, add a little extra flour whilst kneading. 
Sprinkle over the chopped chocolate and cherries, knead for another minute or two, just until the mix-ins are evenly incorporated into the dough. If kneading in a stand mixer, make sure that the dough is not too warm when adding in the chocolate or it may melt through your dough. Gather up the dough and place in a large lightly oiled bowl, cover with a damp tea towel and leave to rise in a warm place for about an hour, or until doubled in size.
Preheat the oven to 200 degrees Celsius / 400 Fahrenheit. Lightly oil a large, shallow baking dishor oil and line a large round or rectangular baking tray. 
Knock the risen dough back with your fist, then divide the dough into 12 equal pieces  (roughly 90 – 95g each)and roll each into smooth, tight balls. Arrange dough balls on your baking dish / baking tray in concentric circles. Cover with the damp tea towel and leave in a warm place for a further 30 minutes, or until doubled in size. 
Place your flour-water paste for the crosses in a piping bag with a small nozzle attached (or make a tight cone out of baking paper with a small hole at the end to use as a makeshift piping bag – see this YouTube video for instructions)and carefully pipe a cross shape onto each risen bun.
Place the pan of buns into the preheated oven, on the middle rack, to bake for 15 – 20 minutes – or until risen, golden brown and hollow sounding when tapped.  If you have an uneven oven, rotate the pan halfway through cooking for even browning.
While the buns bake, make the glaze – combine the sugar, water and vanilla bean powder in a small pan. Bring to a simmer over medium heat, stirring to dissolve the sugar. Once the sugar has dissolved, remove the pan from the heat and allow the glaze mixture ingredients to infuse while the buns cook. 
Remove the buns from the oven and brush the glaze generously over the hot buns. Place the pan on a wire cooling rack and leave to cool.  Eat the sticky hot cross buns warm or at room temperature, sliced and toasted (or not) and spread with a vegan, butter alternative such as Olivani or Nuttelex.