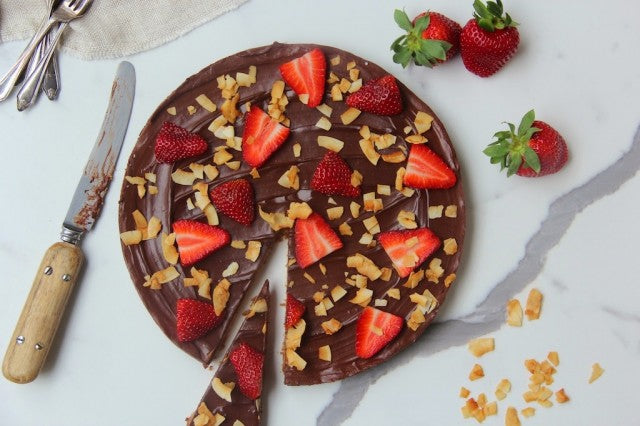 Thank you to Zoe from Little & Loved for creating this Silky Chocolate Coconut Mousse Tart recipe! Featuring some of our new Coconut products this recipe is sure to be a hit with friends and family this holiday season.
Zoe is the wonderful owner and operator of online store Little & Loved which features a wide range of products with a sustainable focus. She is also the mother of two young boys and is passionate about developing simple and delicious recipes that the whole family will enjoy. To find out more about her you can see our earlier post here.

Free of Gluten, Grains, Dairy, Refined Sugar and Eggs
Chocolate Coconut Mousse Tart
Serves 12 
Ingredients

Crust

2 cups fine desiccated coconut 
1 cup almond meal (for nut free, use 3 cups desiccated coconut)
1/4 cup coconut nectar
1/2 cup coconut butter (softened, not melted)

Mousse

1 cup coconut cream (do not shake, use thick creamy layer from top of can)
200g quality dark chocolate 

Garnish

Coconut chips 
Fresh strawberries 

Method 

Preheat oven to 180°.
Combine the desiccated coconut, almond meal, coconut nectar and coconut butter into a blender and whizz until a ball forms in the blender.
Remove and press firmly into 30cm cake tin or pie pan.
Bake for 12-15 minutes, until the edges are browned.
Remove from the oven and allow to cool in the tin.
Roughly chop the chocolate into small pieces and place into a large bowl.
Heat coconut cream in a small pan over a medium to high heat until just boiling.
Pour over the dark chocolate and allow it to sit for several minutes before gently stirring with a wooden spoon. Stir until the chocolate has melted and is completely combined.
Pour over the baked tart crust and use a spatula to evenly spread the mixture.
Place covered into the fridge for 2-4 hours, before garnishing and serving. 
Can be kept in the fridge covered for 2-3 days, cannot be frozen.