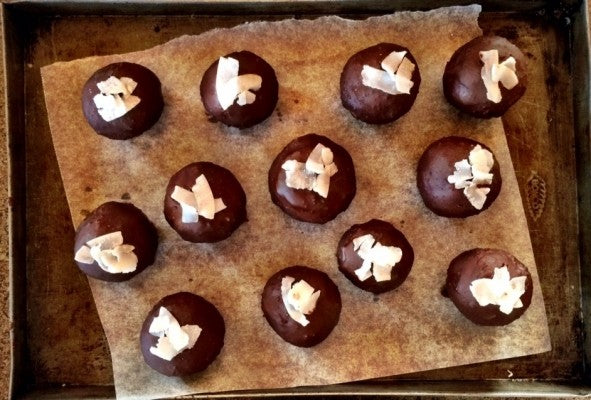 So what makes these Chocolate Bounty Balls so super you may ask?
It's Lucuma powder! Also known as "Gold of the Incas".
This delicious powder is a great addition to any sweet treat, smoothie, or even ice cream due to its lovely, sweet maple flavour. Not only does it have a great taste, but it also contains many essential nutrients such as beta-carotene, vitamin B3, zinc, iron, calcium, as well as being a great source of dietary fibre, healthy carbohydrates and minerals!

Chocolate and coconut is a winning flavour combination and thanks to Megan, who works in our dispatch team, this classic combo just got even better. Megan is currently studying a Diploma in Nutrition at Wellpark College and loves the addition of lucuma saying that it "gives the bounty balls a subtle but yummy maple/apricot flavour and is a great way to add some variety to the common choc and coconut combination".
These balls are a great healthy snack to have on hand to satisfy any sweet cravings with the added bonus of not leaving you with a dreaded sugar slump.
Super Chocolate Bounty Balls
Serves 12
Ingredients
Coconut and lucuma filling
2 cups of desiccated coconut
½ cup melted extra virgin coconut oil 
1/3 cup coconut cream
1 teaspoon vanilla bean paste
1 Tablespoon coconut flour
1 Tablespoon lucuma powder
1-2 Tablespoons coconut sugar (or natural sweetener of choice)
Chocolate coating
50 grams cacao butter
2 Tablespoons cacao powder
1 Tablespoon coconut sugar (or natural sweetener of choice)
Coconut chips to decorate (optional)
Method

Place all the ingredients for the filling into a food processor and process until well combined.
Form mixture into 12 balls and place into the freezer for around an hour.
To make the chocolate coating, begin by gently melting the cacao butter in a double boiler. Add in coconut sugar or preferred sweetener. Mix to combine.
Once completely melted take off the heat and add in cacao powder. Mix well.
Take coconut balls out of the freezer and dip into the chocolate mixture. Ensure the filling is completely covered (a fork is quite useful).
Once the first layer of chocolate has set drop back into the chocolate mixture again for a second coating.
After the second coating decorate with coconut chips if using.
Once set place into an air tight container and keep in the fridge for 1-2 weeks