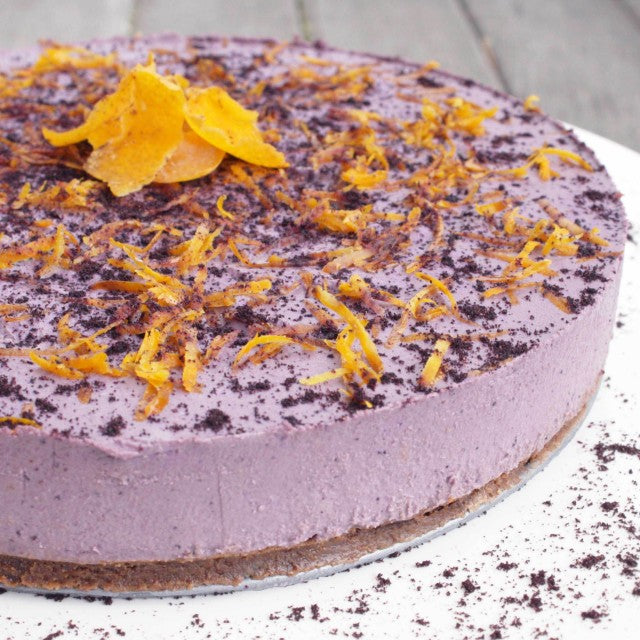 This Zesty Lemon Berry Cheesecake is the perfect balance of flavours. The tart lemon flavour complements the sweetness of the berries, and a dash of coconut cream gives the filling a delectable creamy consistency. Paired with a nutty cacao base this cheesecake is full of antioxidants, is low GI and completely dairy and gluten free. Using 100% natural ingredients, it is the perfect treat for any occasion.
 
Zesty Lemon Berry Cheesecake
Ingredients
Base

1 ½ cups of Almonds
1 Tablespoon Chia Seeds
1 Cup Dates (regular or medjool)
2 Tablespoons Cacao Powder
2 Tablespoons Coconut Nectar
2 Tablespoons Extra Virgin Coconut Oil (melted)
Filling

2 Cups of Cashew Nuts (Soaked for at least 2 hours)
3 Tablespoons Lemon Juice
2 Cups of berries (we used 1 Cup Blueberries and 1 Cup Raspberries)
½ Cup Coconut Cream
2 Tablespoons Coconut Nectar
2 Tablespoons Extra Virgin Coconut Oil
Topping

Lemon Zest
Blueberry Powder 
Method
Base

First

 

soak the dates in warm water for 10 minutes and drain. Process almonds and chia seeds in a food processor until a breadcrumb-like consistency is reached.
Add dates, cacao powder, coconut nectar and coconut oil and blend until well combined.
Press mixture into a lined 20 cm spring-form cake tin and place in the freezer.
Filling
First

 

blend soaked cashews in a food processor until cashews are a finer consistency.
Melt coconut oil over a low heat and add coconut nectar, lemon

 

and

 

berries. Mix until thick and syrupy.
Add the berry mixture and coconut cream to the cashews. Blend in food processor until smooth.
Carefully pour filling over the base and return to the freezer for 2-3 hours.
Transfer to refrigerator and bring to room temperature approx. 20 minutes before serving.
Topping

Finely grate lemon zest over the top and sprinkle with blueberry powder for extra antioxidants. Best served slightly thawed.