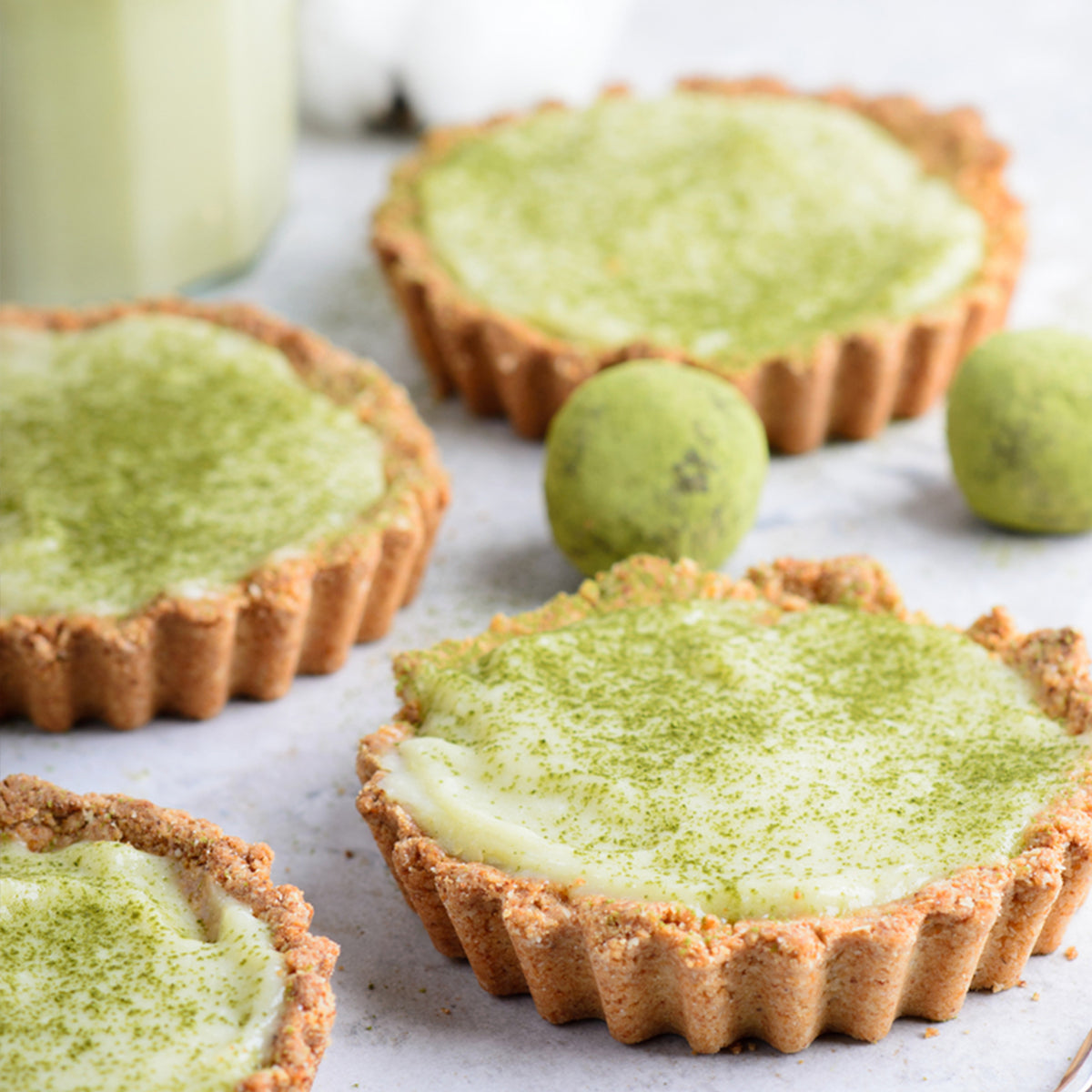 Matcha is a potent antioxidant and is rich in the amino acid L-theanine which leaves you invigorated and focussed after eating! We just love this product and are sure you will too when you start to notice benefits and clarity of mind it can bring.
We are always looking for new and interesting ways to incorporate our vast superfoods range into our diets – so we hope you like this too. These creamy, soft little tartlets are delightfully simple, tasty and a pleasure to make. Go a step further and enjoy them with a cup of our organic Matcha Green Tea!
Ingredients
Crust
1 cup organic coconut flour
1/4 cup almond meal
2 tsp organic extra virgin coconut oil
1/4 cup organic dates pitted
2tbsp almond butter
Filling 
1/2 cup coconut cream
1 tsp organic matcha tea powder
1 tsp vanilla bean powder
¼ large avocado
1 tsp organic Coconut Nectar

¼ cup shredded, unsweetened coconut
Method

For the Crust 
Add all the crust ingredients together into the bowl of a food processor, and blend until the ingredients clump together.


Remove mixture from the food processor and place it into a medium-sized bowl. Using your hands, mix the ingredients into one ball of dough.


Divide the dough into balls, and press it them into line muffin tins.


Preheat the oven to 180 degrees C and place the shells in the oven to bake for 15–18 minutes, or until golden and firm to the touch.


Remove shells from the oven and place on a cooling rack.


For the Filling
To make the filling, add all the filling ingredients to a food processor and blend until smooth. The mixture should be fairly thick, almost like whipped cream.


When the shells are fully cooled, place the filling in the shells and put them in the warm oven that is cooling down - to set.


Store in the fridge, and enjoy!